Best Luggage Configurations for Business Travel
The right luggage for business travel can make all the difference to help you be prepared and on top of things! These configurations of luggage for business travel are a few options we recommend to help you get started. Before you invest in new luggage, think about how often you travel for business. How many days are you traveling for? Where do you go most often? How much do you usually need to take and what do you need to wear? Keep these questions in mind as you look through these luggage options.
The type of clothing you pack is a significant consideration when purchasing luggage. For suits and nicer clothes, we recommend a garment bag. A heavier duty bag like this is great for packing in larger suitcases that can hang on a hook or in a closet at your destination.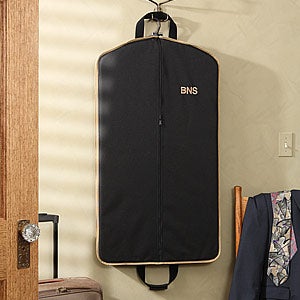 (This one is from Personalizationmall.com)
For a shorter trip, a garment bag that doubles as a small bag is a good option. This helps keep your clothes clean and neat to make a good first impression. This is particularly important if you have not had the opportunity to get well-rested before a meeting. A bag this size can also easily fit as a carry-on so you can avoid the hassle of checked baggage. 
(This one is from Quill.com)
Efficiency is the name of the game in business, and this extends to business travel. Your bag needs to be light, your items need to be easy to get to, and everything needs to be quick to pack and unpack. Using modules will significantly improve your luggage efficiency. This particular example is a 5 piece, lightweight kit with several configuration options. However, there are hundreds of options depending on your bag size and needs.
  (These are from Target.com)
The ultimate luggage for business travel that is at the top of almost all review pages is this smart luggage bag. It has many features that are beneficial for the frequent business traveler including a phone charger, a protected laptop case, and Bluetooth tracking if the bag is ever lost.
(This one is available on Amazon.com)
This is is just an example of a few luggage options that are available. No matter what your preference of luggage for business travel is, your trip will be much better if it is lightweight and organized. Are you looking for more expert travel advice? Connect with us!